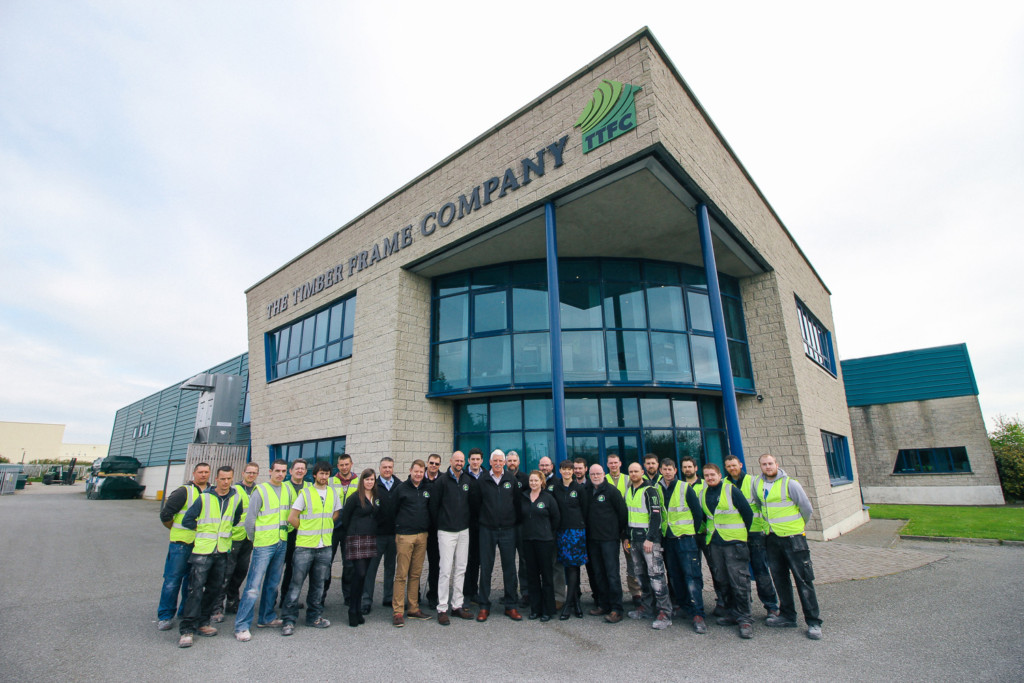 TTFC Ltd has over 18 years' experience in the timber frame industry and currently located in Luton. We have the knowledge and experience built up over 18 years to provide you with a quality product to meet all your needs. TTFC has worked with thousands of self-builders, architects and builders building a reputation of providing high quality timber frame buildings throughout the UK.
Our experience covers a wide range of buildings from residential one off houses to large scale housing developments, apartments, hotels, hospitals, schools, and nursing homes. The Timber Frame Company has gained a reputation for quality, excellence and reliability.
We pride ourselves on the quality of our product and our focus is on customer service, making sure we deliver every time. We believe our product and service is and will remain the most popular choice for timber frame. From the time we are awarded a contract, we build a relationship that lasts. Our design team have over 30 years combined experience within the company and know timber frame inside out. Our customers come to us time and time again.
We have designed, manufactured and installed thousands of timber frame buildings, our flexibility and ethos allow us to work with every project type from one off self-build houses to large developments and can cater for any desired volume and timescales.
Certification:
IS440:2009+A1:2014 – Timber frame construction, dwellings and other buildings
The IS440:2009+A1:2014 specifies requirements for materials, design, manufacture, construction details, site work and quality control for timber frame construction.
The NSAI assessment procedures and inspections verify compliance with the scheme's requirements, which involve:
Detailing and implementing procedures for structural design
Specifying all materials used and ensuring their ongoing compliance with specification
Requirements
Documenting standard constructional details
Providing comprehensive information about site erection
Describing and documenting in a manual the design, manufacturing and inspection procedures which comprise the company's quality management system.
STA – Structural Timber Association

As the largest UK trade association within the structural timber sector, there is a host of reasons why you should choose one of our members. The STA seeks to instil integrity, authority and accountability into the structural timber industry and works to promote, harmonise and raise standards among its members and the sector as a whole. The STA
Provides extensive resources to all its members, so you can be confident that the association member you choose will operate to the highest industry standards.
Additionally, all Structural Timber Building Systems providers undergo a strict audit process in order to meet joining criteria.
ITFMA – Irish Timber Frame Manufacturers Association
Irish Timber Frame Manufacturers' Association (ITFMA) member's factory-manufactured timber frame guarantee the highest level of accuracy and quality and significantly simplifies on-site construction.
Awards
In 2011 TTFC was awarded the ISOVER Certificate for "One of the most outstanding Energy Efficient Construction Projects in Europe.
This highly efficient, air-tight dwelling was constructed in 2009.
The house has a total energy consumption of just 73.26 kWh/m2.yr. The key to achieving this is the TTFC Closed Panel Timber Frame System. The U-values achieved are as follows:
Windows 1.40 W/m2K
Walls 0.18 W/m2K
Roof 0.15 W/m2K
Air-tightness 0.85 m3/h.m2
Publications
Throughout the years we have been published in may articles in many different magazines and newspapers some of which include The Irish Times, Construct Ireland and The Independant. The most recent article written about us in Building Design and Construction magazine can be found by clicking the link below.
BDC magazine published June 2012
The Sunday Times Home supplement published September 2012